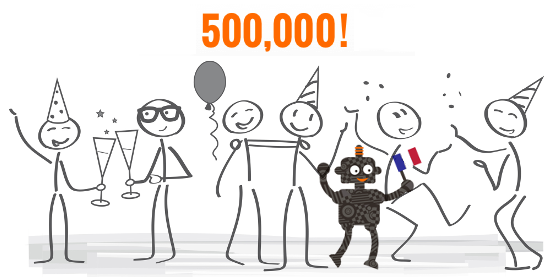 As if this week wasn't exciting enough with the launch of the All New Kwiziq, we hit another milestone. You amazing kwizzers have taken half a million kwizzes – wow!
And the winner is …
To celebrate, we're giving the person who took the half millionth (500,000th) kwiz a free Premium subscription. And the winner is … Trevor W. who has taken a staggering 1,109 kwizzes since subscribing to our partner site Progress with Lawless French in September 2015. We've extended your subscription for another year – way to go, Trevor!
Half a million kwizzes = KwizBot food
KwizBot loves all of this data and every so often, like when we hit a quarter million kwizzes, he shares some interesting tidbits with us. The two most oft-wrong questions of all time switched places:
"Which of these can mean 'It is hot (outside)'?" (65% of 20,042 kwizzers have gotten it wrong –
here's the lesson
)
and
"How would you say 'The more she studies, the more she understands'?" (46% of 22,568 –
find out here
)
The hardest overall topic seems to be
and the next is on
So if you have trouble with any of these, you're in great company! 🙂 Félicitations à Trevor et bonne continuation à tous !