After many months of planning, testing and content creation, we're excited to announce the Latin American version of Kwiziq Spanish is live! Cue fanfare, drum roll, maracas!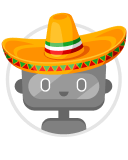 You might be surprised to know that of the 469 million people who speak Spanish as their native language, more than 422 million are in Latin America, the United States or Canada, so we've been keen to develop our Latin American version to run alongside our European Spanish one for some time.
What's the main difference?
Kwiziq Spanish was first released in October 2017 and is growing rapidly. We always knew we would have to find an answer at some point to the vosotros dilemma. Latin American Spanish uses ustedes where European Spanish uses vosotros and this has implications well beyond verb conjugations: it meant making the necessary changes was no simple task. We didn't want to just replace or remove all questions with vosotros programmatically so we opted to replace them manually with ustedes (and the appropriate verb conjugation). Quite some undertaking. Read more about what was involved.
Over to you
And finally, it's here. Ready for you to experience at first hand. So if you're one of the people who's been eagerly waiting to try Kwiziq LatAm style, now's your chance.
Sign up here.
If you're already one of our Spanish students and you have questions about making the switch, take a look at our special Latam Frequently Asked Questions.