¡Hola amigos! We're super excited to announce we've launched our second language, Kwiziq Spanish! It's currently available in beta*.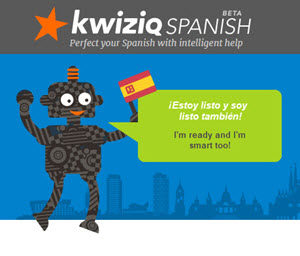 Like Kwiziq French, it is free to register. What's more, all new users signing up to Kwiziq Spanish will be given Premium access for a limited period since we want everyone to have the full Kwiziq experience. We're looking forward to getting your constructive feedback to help us perfect it.
Premium features include unlimited kwizzes, multiple Notebooks, and access to your interactive Brainmap.
KwizBot can help you perfect your Spanish faster than ever, monitoring what you know and giving you intelligent help along your journey to fluency.
Kwiziq users report increased learning speeds – up to ten times faster!  Check out what our users say about Kwiziq.
Sign up for Kwiziq Spanish here.
* beta is a software term used for a product that is feature-complete but still undergoing testing and may therefore contain some unexpected bugs.